A camera has captured footage of the 41 workers trapped in a tunnel in India's Uttarakhand state for the first time in nine days.
The video was filmed using an endoscopic camera that was slipped inside a new pipe drilled into the tunnel on Monday.
Rescuers also used the pipe to give the workers their first hot meal in days.
So far, they had been subsisting on snacks sent through a narrower pipe inserted earlier.
The under-construction tunnel caved in after a landslide.
The incident took place on the morning of 12 November in the northern state's Uttarkashi district. Contact with the trapped men was established soon after that and they are being provided oxygen, food and water since then.
On Monday evening, the rescue operation witnessed a breakthrough after rescuers were able to push a six-inch diameter pipe through the debris inside the tunnel.
Officials slipped a small camera attached to a flexible cable into the pipe and used it to film the trapped men.
In a video released to the press, rescuers can be seen viewing the footage on a computer screen outside the tunnel.
An official asks the men to appear before the camera and smile and wave – the workers can be seen responding to the instructions.
He also tells them that they would be rescued soon and later asks them to identify themselves in front of the camera.
The communication seems to be taking place through walkie-talkies, as one of the men in the video is holding the gadget in his hands.
The men, many of whom are wearing safety helmets and jackets, can be seen standing in a semi-circle near the camera.
The official then tells the men that the pipe will soon be cleaned after which water will be sent to them.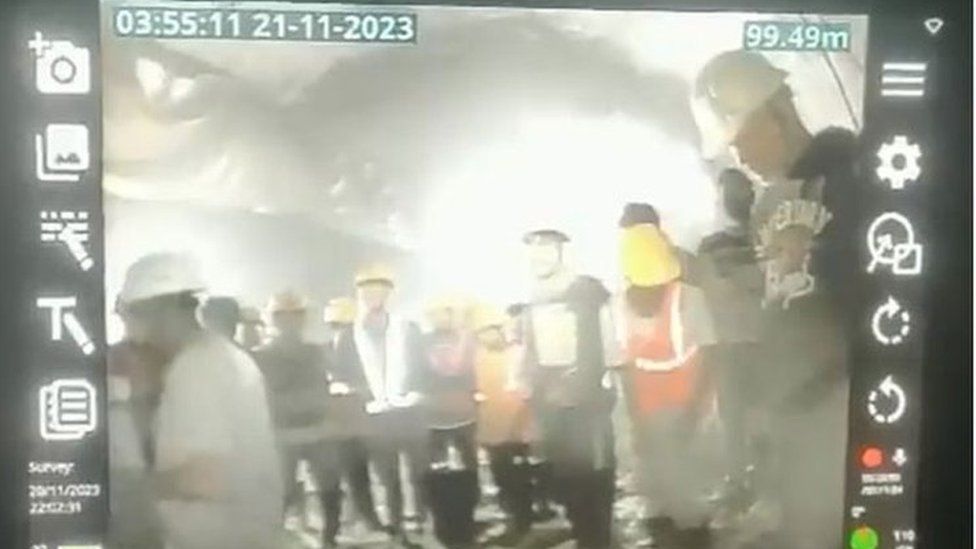 The new pipe is wider than the four-inch diameter pipe officials had inserted into the tunnel, hours after a portion of it caved in on 12 November.
Because of the narrowness of the pipe, only certain snacks like grams and dry fruits could be given to the workers so far. The pipe was also used to supply oxygen to them.
Officials have said that the new wider pipe will help supply the workers with more oxygen, food and other essentials such as medicines, mobile phones and chargers.
The operation, which entered its tenth day on Tuesday, has encountered several delays and obstacles primarily due to loose soil and falling debris.
The plan is to dig a hold wide enough to accommodate a 900mm pipe, which the workers can use to crawl out of the tunnel.
However, on Monday, officials said that they were attempting to dig two more tunnels by the side of the main escape tunnel as additional escape routes.
On Sunday, federal Highways and Roads Minister Nitin Gadkari had visited the site and said that the rescue operations could go on for "two to three days".
courtesy BBC